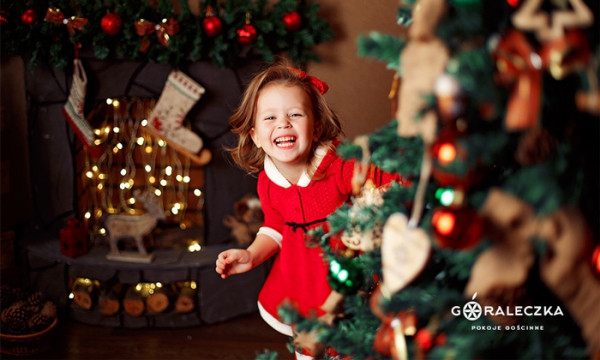 A lot of people claim that in Podhale the Christmas atmosphere is different. It is hard not to agree. Here the Christmas magic is combined with tradition and the unusual atmosphere makes you want to relax with the family.
There is nothing more beautiful that the trees covered with snow, the festive dishes, meeting the tradition and the joy surrounding us. In order to make Christmas even more homely, unusual and unforgettable, it is worth spending this time in Podhale!
The price includes:
A festive Christmas Eve dinner on 24th December
Giving Christmas presents by Santa Claus after the Christmas Eve dinner
4 days of accommodation
4 buffet breakfasts
3 dinners (soup, main course, compote, buffet with sweets)
Playground with toys for children
A room for playing billiards and table tennis
Crib and bath for children (after prior booking)
Additional possibilities:
At Christmas we rent rooms for minimum 4 days. Each another day costs PLN 100/adult. The price includes accommodation, breakfast, dinner.
In this special time we encourage to go on a sleigh ride with torches, of course if the weather is favourable.
At Christmas, on 25.12 we invite all the guests to visit our nearby Karczma Wiyrchowa, where you can try exquisite dishes accompanied by the highlander live music.
"See another side of Podhale, far away from the crowded streets, bustle and tourists. For your holiday choose a completely new place that will open a window to the view of the tops of the Tatra mountains, green meadows and peaceful atmosphere right in front of you." More about us.
Additional information
minimum 4 days stay
Full board
Children

Children under 3 years old- for free, under 6 years old -50% discount, under 10 years old- 20% discount.

Pets

Pets are allowed only after informing the owner of the property. Additional payments are not required.

Additional information

The condition of making a reservation is to pay 30% of the down payment. The reservation can be cancelled, free of charge, up to 14 days before arrival. If the reservation is cancelled in a shorter period, a down payment of 30% of the total price of the stay will not be refunded.